The following represents a compilation of our most frequently asked questions. If your question isn't answered below submit your question to info@thetruistarena.com. We'll try to provide the answer or refer you to an appropriate source of information.
We ask all guests to arrive early and travel light, as you may be subject to search, which includes metal-detecting hand wands upon entry. For safety reasons, prohibited items include but are not limited to:
Aerosol cans
Alcohol, drugs, illegal substances or any paraphernalia associated with drug use
Animals
Audio/Video recorders
Backpacks
Bags larger than 12" by 6" by 12" - See Clear Bag Policy below.
Balloons
Camera cases
Cameras with removable lenses or flash
Cans, bottles, coolers or other similar containers
Fireworks
Flags, signs or banners
Flowers or Gifts
Hover boards
Laser pens/pointers
Noisemakers such as air horns or whistles
Outside food or drinks or personal drink containers
Tripods, monopods, other professional photography equipment or selfie sticks
Pepper spray/mace
Weapons of any type, including chains, knives, firearms and spiked jewelry
No Smoking or Vaping is permitted at Truist Arena
**Other items deemed unacceptable by event/building management**
If an item is revealed during a search, patrons may dispose of the item or they may return the item to their vehicle. Truist Arena does not safeguard any personal belongings or items of any type.
A Clear Bag Policy is in effect all shows/events. You must abide by the following:
12" by 6" by 12" clear bag + 1 clutch bag per guest permitted.
One Gallon Ziploc storage bag permitted.
One Clutch bag no larger than 4.5"x 6.5" with or without straps permitted. Clutch does not have to be clear.
Exceptions can be made for Medical bags after a proper inspection.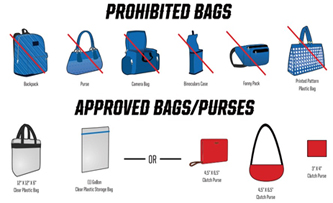 Hours of Operation: Monday – Friday 10:00am – 5:00pm. Hours are subject to change for event on-sales.
Yes; the Truist Arena accepts cash and all major credit cards.
Group discounted tickets are available to all family shows and some concerts at Truist Arena. To inquire about group tickets please call (859) 292-2889.
Both the Truist Arena's Box Office and the Will-Call windows are located in the event level of Truist Arena.
For most events, children under the age of two are not required to have a ticket. However, should you wish for your child to have their own seat, a ticket is required. Check the specific event page on this website to be certain.
Truist Arena does not supply nor have access to backstage passes.
Truist Arena will not accept any gifts or fan mail for anyone that performs here. All mail and gifts will be discarded.
If the show has been rescheduled, and you still plan to attend, hold onto your existing tickets. They will be honored for the rescheduled performance. If, however, you do not plan to attend the rescheduled event or it has not been rescheduled, please check the event's page on this website for information on how to obtain a refund.
Generally, the doors for all events at Truist Arena open one hour prior to show time.
Parking is included on concert, event and basketball tickets unless otherwise indicated. Parking will be conducted on a first come, first served basis.
Call Truist Arena with questions or to reserve bus parking space at (859) 442-2652.
Patrons may not bring food into Truist Arena. However, there are concession stands available throughout the building.
SAVOR, Truist Arena's exclusive food and beverage services provider, offers guests a variety of food and beverage items on the concourse level.
Our concession stands offer traditional arena fare such as hot dogs, pretzels, popcorn, nachos, assorted Pepsi products and a variety of beers.
It is the policy of Truist Arena that sales of alcoholic beverages to persons under the age of 21 are strictly prohibited. For that reason, our vendors are required to ask every purchaser, regardless of age, of an alcoholic beverage for a valid driver's license/identification card to verify identity and age.
In accordance with Kentucky law, SAVOR at Truist Arena will only accept Kentucky Driver's Licenses, Identification Cards issued by the Kentucky Department of Public Safety for those Kentuckians who do not drive, and driver's licenses from other States that can be validated by the Driver's License Guide and/or scanning equipment. SAVOR at Truist Arena will not accept any form of identification unable to be validated, including military IDs or passports.
SAVOR is proud to be Truist Arena's exclusive food and beverage service provider.
For catering information, please contact:
Dan Anderson - Director of Food & Beverage
danderson@thetruistarena.com or (859) 572-1544

We've partnered with DoorDash for mobile order pickup at our concession stands! Download the DoorDash app, order food and drinks while you're in your seat, then skip the line and pay no fees.
Accessibility & ADA Compliance
Accessible seating is available at Truist Arena for all events. When purchasing tickets, please mention that you are in need of accessible seating so that we may assist with special arrangements.
Truist Arena at Northern Kentucky University offers ADA-compliant seating. All sections may not be available due to production requirements. For event-specific information, please call the Truist Arena Box Office at: (859) 292-2889.
Truist Arena meets or exceeds all structural and service requirements as stipulated by the Americans with Disabilities Act. Restrooms, drinking fountains, Truist Arena ATMs, and counters are accessible to guests with disabilities.
Wheelchair accessible seats are available in all price levels. Up to three companion tickets, as available, may be purchased with each wheelchair accessible ticket. Please indicate when purchasing tickets if you require accessible seating. ADA seating may be purchased on the floor so long as there are floor seats available on an aisle. All requests for ADA seating on the floor should be directed to the Tuist Arena's Box Office no later than 24 hours prior to the event.
In general, patrons with disabilities may be dropped off at the drop-off circle in front of the arena. One should enter the campus of Northern Kentucky University from Nunn Drive in order to access the drop-off area. Click here for the NKU Campus Map. Some events at BB&T Arena may have the Northern Kentucky Department of Public Safety directing traffic to and from Truist Arena. When an event calls for this, specific information concerning accessibility drop-off will be posted an events specific event page on the Truist Arena website.
Accessible parking spaces are located in the adjacent surface lot (Lot O) & in the Welcome Center Garage. You must have a valid person with a disabled parking placard to park. One should enter the campus of Northern Kentucky University from Nunn Drive in order to access accessible parking close to the arena. Click here for the NKU Campus Map. Parking is first-come first-served and spaces are limited. An early arrival is strongly recommended. Shuttle service may be offered in some circumstances. Please refer to a specific event page if shuttle service is being offered.
Guests of the Truist Arena who are hearing impaired may request an amplification device for most events at the Arena. Please contact (859) 292-2889 or email us at info@thetruistarena.com. These requests should be made at least one week in advance to ensure the proper device is available when you attend the event. A photo ID is required when borrowing the device and all amplification devices are operable from any seat.
Truist Arena can provide sign language interpretation for guests with hearing disabilities. Requests for this service must be received three weeks prior to the event and be approved by production management. For details, please email us at info@thetruistarena.com or call the Truist Arena Office at (859) 442-2659.
Truist Arena offers wheelchair service for guests who may need assistance to and from their seats. Please contact a Guest Services representative for assistance. Wheelchair assistance is provided on a first-come, first-served basis. Due to the limited number of wheelchairs available, they may not be borrowed or rented as seating during an event. If wheelchair assistance is necessary during an event, please notify the nearest staff member.
Baby changing stations are available in most of the public restrooms at Truist Arena.
Banners and signs are not permitted in Truist Arena.
Northern Kentucky University respects the Kentucky state law to carry a licensed firearm, however the policy of the University at this time is that no firearms are allowed on the Campus of Northern Kentucky University with or without a carry license. This includes the Truist Arena.
In the event of an emergency, please remain calm and WALK to the nearest exit in an orderly fashion. Follow posted signs and listen to announcements for specific instructions. In some circumstances you will be directed to remain in the building and staff will direct you where to go. Please do not use elevators. If you are disabled, trained staff members will assist you in getting to safety.
Truist Arena has two main entrances for the general public located just off of Nunn Drive.
The main entrance is located on the north side of the building, where the main Box Office is also located. The secondary, East Concourse entrance, is located on the east side of the building next to Lot O.
Exiting and re-entering the building with the same ticket is not permitted. Exceptions are only made in the case of medical situations and emergencies.
For your safety, Truist Arena has professionally trained emergency personnel from Central Campbell County Fire Department are on site for most events. First Aid station is located on the main concourse by section 112. In the event of an emergency, please go to the first available officer or staff member for assistance.
A Guest Services Booth is located on the Main Concourse by Section 110 that provides guests a convenient location to obtain information, offer suggestions, voice concerns and request assistance during events.
The following behavior or activities are grounds for eviction from Truist Arena:
Use of profanity, obscene gestures or clothing or unacceptable language of any type.
Possession of illegal or unauthorized items inside Truist Arena.
Failure to obey or follow Truist Arena smoking policies.
Use of illegal substances or drugs; Public drunkenness.
Entering or attempting to enter any "off limits" areas such as playing surface, stage area, backstage or restroom of the opposite sex.
Participating in a fight.
Verbally abusing, threatening or intimidating other guests or arena employees.
The throwing of any objects or projectiles in seating areas from balconies, ramps, stairwells or any other areas.
Guests encountering difficulties and concerns are urged to contact Truist Arena staff immediately.
**Other items deemed unacceptable by event/building management**
Truist Arena offers internships for academic and non-academic credit. However, none are available at this time.
Truist Arena provides lost and found services for guests, which is located in the Guest Services Booth near section 110 on the Main Concourse level. For lost & found inquiries after an event, please call (859) 442-2652 during regular business hours. After 5:00pm, please call Truist Arena Security Office at (859) 292-2888.
Numerous merchandise or novelty booths are available throughout Truist Arena during events.
Truist Arena offers premium seating and services for 12 luxury suites, as well as 2 Party Suites. All suites are located on the main concourse level. Click here for more information on Premium Seating.
Truist Arena offers a total of 30 restrooms including 1 unisex family restroom, all accessible to persons with disabilities. A select number of restrooms include diaper-changing stations.
Certified service animals or service animals in training for guests with disabilities are welcome into Truist Arena. All service animals must remain on a leash or in a harness at all times within Truist Arena. All other animals are not allowed in Truist Arena unless approved by facility management.
Only compact umbrellas that will fit into the clear bag specs are permitted into Truist Arena and must be placed in you clear bag or clutch at the entrance. No golf or large umbrellas are allowed into Truist Arena. All items are subject to search upon arrival.
Truist Arena
500 Louie B. Nunn Drive
Highland Heights, KY 41099
Yes, Truist Arena has a Truist ATM located on the main concourse across from Section 109. Please note that some concession stands and portable vendors do not accept debit or credit cards.
Interested organizations must provide a letter on official organization letterhead to the Marketing Department. Once the letter is received, it is forwarded on to the promoter for that specific show. Donation requests should be forwarded to: Truist Arena, Attn. Donations, 500 Louie B. Nunn Drive Highland Heights, KY 41099
Not all requests can be fulfilled, but group discounts may be available.
ASM Global was formed from the merger of AEG Facilities and SMG in October 2019 creating a venue management powerhouse that spans five continents, 14 countries and more than 300 of the world's most prestigious arenas, stadiums, convention and exhibit centers, and performing arts venues.To learn more about ASM Global and the exciting new ways we can serve you, click here to visit our website.